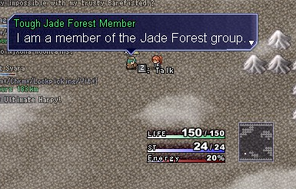 Wanders around the wilderness. If the player kills a non-aggressive animal, all Jade Hunters for the rest of the game will attack the player on sight. Can attack friendly NPCs.
Damaging or killing a Jade Hunter will incur a Bounty, regardless of if they were angered prior to attack or not. A member of the Jade Forest Group.
Base HP: 200
Don't attack a non-aggressive animal.
If you did attack a non-aggressive animal, you can run away from a Jade Hunter to avoid raising your Bounty.
They will not spawn in dimensions where only shopkeepers spawn.
They are the fastest NPC you can fight and quite powerful. Best to use bows or teleport pills. Speed Bracelets are helpful. Tentacle Weed will also slow them down.
They fire at you one square outside the range of their bow if you let them approach you. A superior ranged bow can defeat them.
You can farm an unlimited supply of Jade Arrows by staying outside their range.
Ad blocker interference detected!
Wikia is a free-to-use site that makes money from advertising. We have a modified experience for viewers using ad blockers

Wikia is not accessible if you've made further modifications. Remove the custom ad blocker rule(s) and the page will load as expected.