Description
Edit
"A sword created from the fang of the Dark Dragon.This sword is extremely balanced in all areas including weight, damage output, and durability. Also very good at destroying walls and other objects."
| Type | Weight | Attack | Force | Durability | Value | Notes |
| --- | --- | --- | --- | --- | --- | --- |
| Sword | 7 | 30 | 10 | 200 | | +50% damage to walls |
Acquisition
Edit
Has a chance to be a bonus reward when you Defeat the darkness.
Just as description states, this sword has the best overall weight/durability/damage ratio of all weapons. Easily the best long-term use weapon for Hero class.
With Dark Fang Blade and Bracelet of Destruction you can break Mysterious Walls since around 3km mark.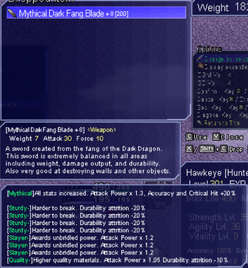 Ad blocker interference detected!
Wikia is a free-to-use site that makes money from advertising. We have a modified experience for viewers using ad blockers

Wikia is not accessible if you've made further modifications. Remove the custom ad blocker rule(s) and the page will load as expected.